A'COURT ABROAD WITH
Renata Zandonadi Quaglia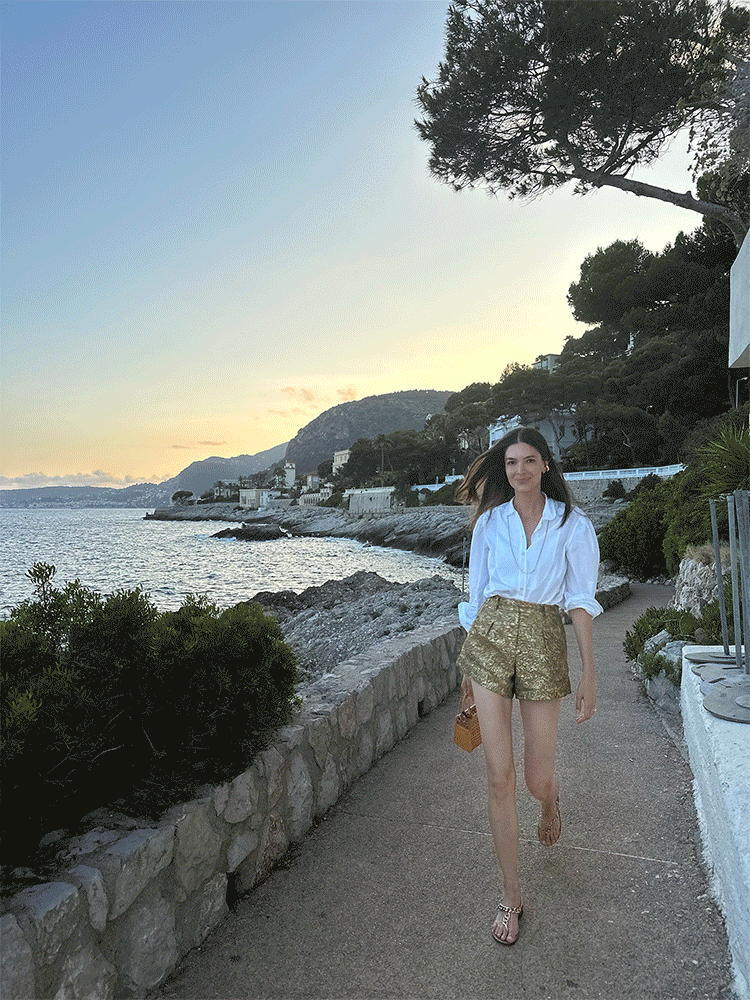 HOW WOULD YOU DESCRIBE YOUR PACKING STYLE?
My packing style is meticulously planned. I like to pack versatile items that can be easily mixed and matched to create different outfits or serve multiple purposes plus a few fun additions to spice things up. This allows me to adapt to any impromptu occasion that may arise during my travels without carrying excessive luggage.
HOW DID A'COURT MAKE GETTING DRESSED EASY ON YOUR TRIP?
A'Court designs are the perfect mix of feminine and masculine elements. They can be easily dressed up or down depending on how you style them. Fabrics are comfortable, which make getting dressed more enjoyable, especially during long days of exploring.
WHAT WERE SOME HIGHLIGHTS FROM THE SOUTH OF FRANCE?
While staying in Saint-Jean-Cap-Ferrat, which is a peninsula situated between Monaco and Nice, I love exploring the many walking paths along the coast and going for a long swim at Paloma Beach. There are a lot of great restaurants in this part of the French Riviera, La Colombe d'Or being my forever favorite. It's a legendary, small, historic auberge and restaurant in the medieval village of Saint-Paul-de-Vence. A must-visit for the magnificent art and simple Provençal cuisine. Paintings and drawings by Picasso, Matisse, Kandinsky and Miro adorn the walls of the rustic dining room, a Calder mobile presides over the swimming pool, and a colorful Fernand Leger mural greets guests in the courtyard. 
WHAT WAS YOUR FAVORITE A'COURT PIECE? 
I love a crisp white shirt that goes with everything, therefore the Edith blouse is my favorite A'Court piece. It has classic menswear construction but a small round feminine collar. I styled it on top of a bikini, with a colorful sarong (and a crochet shell necklace I made myself!) during the day and then with a gold brocade high wasted pair of shorts to go out for dinner. 
WHAT'S ON YOUR SUMMER READING LIST? 
I'm rereading Eckhart Tolle's classic 'The Power of Now' to be reminded of the importance of mindfulness and presence. It gives simple yet profound insights into the nature of human consciousness. After that, I'm diving into 'Outlive' by Peter Attia, an expert in longevity, a subject I've been very curious about lately. 
WHAT'S NEXT ON YOUR TRAVEL WISHLIST? 
Heading to heavenly Formentera for a couple weeks with my husband and friends. Before flying back to NYC, we're spending a few days in Vienna which I'm very excited to discover for the first time and through the eyes of a long time friend who moved back to her homeland recently. Japan is on the top of my bucket list next.